Moving Forward...
The Greater Mekong is simultaneously one of the most biologically rich regions on Earth and one of the most threatened by environmental destruction. Years like 2016, in which we hear about 115 species for the first time, could soon be a thing of the past if we don't start prioritizing the protection of the natural world.
One of the biggest threats to the habitats that many of these species rely on is infrastructure development. Every year, more and more new roads are criss-crossing the region, cutting through previously intact forests and trapping animals like elephants and tigers that require large tracts of land to roam. A 2016 WWF report on the effects of road construction on tiger habitats projected 11,000 km of roads being planned in Asia, which will severely fragment existing habitats for tigers and other animals.
Dams are also set to cause major disruptions to the habitats of thousands of freshwater species. With 204 dams currently being planned or constructed in rivers throughout the region,15 freshwater ecosystems are being fragmented and land habitats downstream robbed of crucial sediment flows. "Rivers in the Greater Mekong and the critical services and resources they provide are threatened by a host of poorly planned and coordinated development projects that threaten not only the ecosystem, but also the economy and the livelihoods of millions of people," says Marc Goichot, Water Lead for WWF-Greater Mekong. "We must realize that rivers connect the wildlife and the people of this region. If we destroy them, we not only destroy the wildlife but ourselves as well."
But perhaps the most immediate and disturbing threats to wildlife in the region are poaching for trade as pets, food and medicine. Both the crocodile lizard and the snail-eating turtle from this year's report were found to be at risk of poaching for trade while countless other species populations have been decimated in the region for this reason. A recent WWF report highlighted the scope of the issue in the Golden Triangle, the region where Thailand, Laos and Myanmar meet that has become notorious for open trade in endangered species. A major driver of the trade is tourists from China and Vietnam traveling to areas such as MongLa and Tachilek in Myanmar, and border areas such as Boten and the Golden Triangle Special Economic Zone in Laos. Once in these areas they consume wildlife products such as tigers, bears and turtles and purchase ivory and endangered animal skins often in open view and with no fear of any consequences..
As we discover new species that could tempt poachers, we must be proactive in our approach of increasing habitat protection and ranger capacity in order to prevent more species like the snail-eating turtle from being found in markets rather than being seen in the wild. And we need to urge governments to close markets that sell endangered species and ignore international laws and regulations against such sales.
"Even as threats to these species loom, it is important to recognize the value of these discoveries to our broader understanding of the natural world around us," says Stuart Chapman, Regional Representative for WWF-Greater Mekong. "This region is home to both incredible wildlife and incredible communities of people. We need to find a way forward so that both of these groups can live together harmoniously."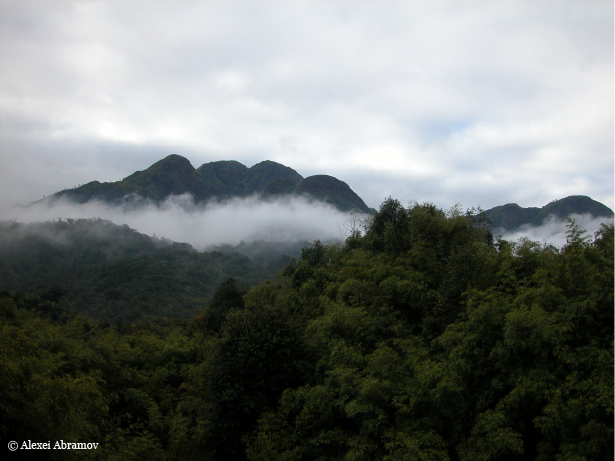 Habitat in which mole species Euroscaptor orlovi and E. kuznetsovi were discovered in northern Vietnam
A key to protecting these unique species is policy work at the national and regional level that reaches across borders to cooperatively save these remarkable species and ecosystems. WWF is working at all levels, from communities on the ground to businesses to governments and policy-makers, to ensure that we come together to find solutions to these globally significant problems and protect the Greater Mekong's wildlife for generations to come.
Each new species discovery teaches us a little bit more about the wildlife of the region and the habitats they call home, but it also gives us one more small reason to value the natural world. These scientists act as a voice for species, from the smallest of flowers to the largest of jungle cats, whose lives depend on human action. "If we don't come together and decide that their lives are worth saving," says Chapman, "the day when there are no species left to discover will come sooner than we think."